About Us
The USS Challenger is a Star Trek fan club based out of Ocean County, NJ, and a proud chapter of STARFLEET, the world's largest Star Trek fan club. We get together regularly for meetings, parties, conventions, movie nights, community events, and of course, to talk about sci-fi!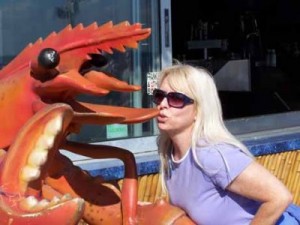 Grab a beach chair and get comfortable!
It's been a long journey — almost 30 years — and hard to believe I've remained in the center seat all this time (guess I'm just a glutton for punishment!) For a time, the USS CHALLENGER served as the flagship of the 7th Fleet of Starfleet.
When I think of the many projects we've been involved with, community service activites we've performed, conventions we've gone to, actors, writers, and artists we've met and interviewed and parties we've enjoyed……..It boggles the mind.
We've had some very interesting times meeting the casts of Star Trek, Star Trek: The Next Generation, Star Trek: DS9, Star Trek: Voyager, Enterprise, Babylon 5 and Dr. Who over the years. Primarily our cable access show SPACED OUT which had started during our time as a Shuttlecraft brought us into some very interesting situations. To name just a few, we have had special interviews with, Marina Sirtis, Patrick Stewart, John "Q" DeLancie, Lakwood NJ local Armin Schimmerman (who just loved our Dr. Jeff), Avery Brooks, the original cast of "Lost In Space", George Takei, Robert Legato (SFX master and  Titanic Oscar Winner), Dennis "Danger" Madalone, the beautiful 007 Bond girl Caroline Munroe, Peter Davision (the 5th Dr. Who), "Grandpa" Al Lewis, and Star Trek Guru Michael O'Hare (who certainly enjoyed being photographed with Ship's Counselor Emily Vosseller and Avenger's red-haired CMO Dr. Donna).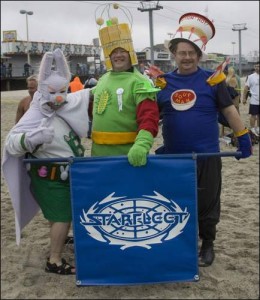 Touching on our community service, we've helped the following groups and causes:
March of Dimes (which began when we were forming and called the Shuttle Discovery)
Cystic Fibrosis (as CO I was dunked by my fellow crewmates several years in a row in a dunking booth on the Seaside Heights boardwalk)
North Shore Animal League (through the sales of our first fanzine as a Medical Section Project)
American Cancer Society (we held a 50's dance and many of us dressed up in bobby socks, poodle skirts, leather jackets, etc.)
Laurel House (another Medical project that had us raise $400 for the Ocean County based youth shelter through a bowling event)
Ronald McDonald House (through donations of comic books and other items)
Cleaning up the streets and dunes of Ortley Beach, and our first clean up of the beach in Lavallette.
Project Atoz, a program to collect books and materials and ship them to a third world country in South America to build a children's library.
NJ and MD Polar Bear Plunges for Special Olympics
Dune grass planting around our adopted dune on the 8th Avenue beach in Ortley Beach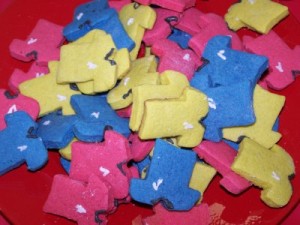 Some of our special events have included many parades: The Mummers Day Parade on New Years Eve, Mardi Gras Parades, Columbus Day Parades, Dover Township Founder's Day, Dover Township Christmas Parades, and the one that started it all…The Toms River Halloween Parade where then Asst. Science Chief Becky Schoenberg, and then First Officer/Communications Chief Mary Francen, got into arguments with the Pee Wee Football Players who we dubbed "Ferengi". This seemed to happen more than one year. We had a large scale Borg Ship which housed our Science Chief and survived the elements and the bumpy road.
We've had many relationships, friendships and families brought together on our ship.  From our First Officer Jeff Victor and his wife Laura (our webmaster and Chief Communications Officer,) to myself and my wife Emily, we've even seen our fair share of Challenger couples.  That just scratches the future of our long ship history and our adventures continue.
To the journey ahead!
– Admiral Bob Vosseller
Commanding Officer
Get friendly — Meet our command staff
Get involved — View our calendar of upcoming events